Meet Our Donors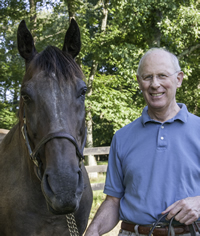 The Foundation supports programs I care about
As former chairman of the AAEP Foundation, Dr. Nat White helped set the course of the Foundation and now has chosen to ensure his continued commitment to the Foundation's mission. Dr. White, a member of the Foundation's Legacy Society with his commitment through his estate plans, is professor of surgery at Virginia Tech's Marion DuPont Scott Equine Medical Center.
"All of us in the horse industry owe horses for our livelihood," Dr. White said. "The Foundation is the best way for me to support research and welfare issues because of the types of programs it funds and the careful use of my donations."
"The Foundation has funded numerous projects that have helped horses, including research, scholarships, unwanted horses, youth development, and disaster preparedness," he noted. "These are great examples of how the AAEP Foundation has stepped up to help improve the health and welfare of horses."
"Philanthropy starts with the idea that a gift will do good. Large or small, bequests will have a huge impact for horse welfare and well-being in the future," Dr. White added. "If enough donors — both members and clients — establish a bequest, eventually there will be a substantial increase in the number of programs that will benefit from the AAEP Foundation support.
"When making decisions about allocation of funding in my will, I wanted to leave something to the AAEP Foundation. AAEP has been instrumental in my success as a veterinarian and educator," Dr. White said. "This is a personal decision that first involves making sure my family is cared for after I am gone. It is critical to make these types of decisions now while the bequest can be carefully planned and to ensure it is honored in the future."
"My family acquired horses when I was in seventh grade. I participated at horse shows and in 4-H while learning to care for horses. Some excellent mentors influenced my decision to focus on equine medicine in veterinary college," he explained. "My experiences as an intern and resident furthered my interest in surgery. Since then my goal has been to find ways to improve the outcomes for horses, particularly for colic and orthopedic diseases."