Meet Our Donors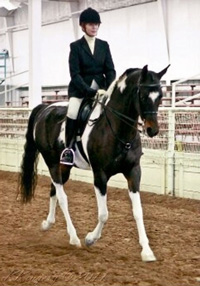 An estate gift for research
When horse owner Lynn Myers was three years old horses became a part of her life and her passion for them has not diminished over the years. Now as she plans her estate, she wants to provide not only for the animals in her care, but also for the welfare of all horses.
Lynn has established a trust and through that will leave a portion of her estate to the AAEP Foundation to provide funds for research on laminitis, insulin resistance and colic.
Her half Arabian/Pinto gelding, LL Harlequin Bey, has suffered with these issues. Since that began, Lynn has studied the suggestions from experts in those areas and has carefully followed their advice.
A 4-H Horse Project teacher for 24 years, Lynn considers horses key to helping many people grow into great adults. She has also been a distributor of horse supplements and grooming products for 27 years. This commitment to the AAEP Foundation is a natural fit.
An estate gift to the AAEP Foundation can eventually fund scholarships, research projects, educational or benevolent programs, or other interests of the donor.