Meet Our Donors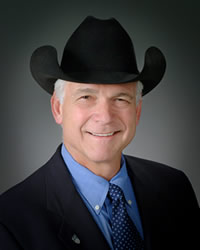 A way to say thanks...
Dr. Bill Moyer, head of the Department of Large Animal Clinical Sciences at Texas A&M University and AAEP Past President, understands the importance of mentors.
"The AAEP has been my greatest collective mentor throughout my career," he says. "I could not begin to thank the membership, the many who have served in a variety of ways, and the wonderful staff for what you all collectively have brought to my life. My contribution via the Legacy Society is my way of saying thank you."
Dr. Moyer's professional career began at Colorado State under the tutelage of O.R. Adams and Jim Voss, and continued through Charles W. Raker, Jim Rooney, Loren Evans, Al Merritt and Bob Kenney—all dedicated equine practitioners and AAEP members. "The gift of that kind of education and experience very much influenced my life and career goals with horses," he added. However, he admits it all started a bit earlier in his life.
"My love of horses began when watching John Wayne, Roy Rogers and Gene Autry. I cannot remember when I did not wish to be a cowboy and be around horses. I was fortunate to have early experiences with working horses on my uncle's ranch in New Mexico pretending to be John Wayne. My attraction as I got older was and continues to be related to their athleticism, as I had made multiple failed attempts at being an athlete and always admired the incredible variety of equine athletes."
These connections helped prompt his decision to pledge a portion of his estate to the AAEP Foundation and become a member of its Legacy Society.
"The Foundation's positive influence will continue to grow because it is doing the right things for the right reasons," Dr. Moyer notes. "It is my hope that other AAEP members will consider such a gift."