Meet Our Donors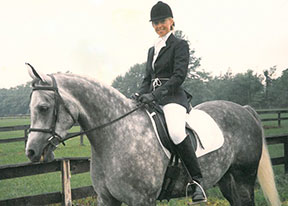 Legacy gift to benefit plight of world's working equids
From her earliest days as a horse-crazy girl, Dr. Casey Gonda has been continually enriched by horses so it is only natural for her to want to give back to the animal that has provided so much joy throughout her life. Dr. Gonda and her husband, Les, who reside in Keswick, Va., have made such arrangements by pledging a portion of their estate to the AAEP Foundation and becoming members of its Legacy Society. Dr. Gonda recently discussed the couple's bequest, which they earmarked specifically in support of Equitarian projects.
"It is our hope that our support allows Equitarian programs to continue and grow long after we are gone," Dr. Gonda said. "Like many of my colleagues, I have provided pro bono veterinary services over the years for cases of neglect and abuse within my practice area. However, until I read about the benevolent missions supported by the AAEP Foundation, I was unaware of the many well organized groups committed to providing veterinary services to abused or neglected horses, and education to practitioners and horse owners living in impoverished countries and remote areas of the world."
Only well-informed and careful planning can guarantee your wishes will be met upon your death, Dr. Gonda pointed out. "In our initial discussions, Les and I agreed that it was important we have some say in how our monies were dispensed. The AAEP Foundation provides the flexibility to earmark how and where your gift will be used. As an AAEP member, I expect and appreciate that a portion of my annual dues supports the administrative costs incurred by the Foundation so that 100% of donations go directly to programs that benefit the welfare of horses in the U.S. and elsewhere."
Equine veterinarians devote their lives to caring for and protecting horses. Dr. Gonda cited long-time friend and colleague, the late Dr. Doug Byars as saying that "horses are mute" and it is our responsibility to advocate for them in any and every way we can.
"Since Les and I have no direct heirs, it was our decision to bequeath the majority of our estate to combine our love of horses and my devotion to veterinary medicine, Dr. Gonda noted. "Though a smaller organization, the AAEP Foundation is professionally managed and overseen by colleagues with our shared philosophy."