Legacy gift keeps the "circle of life" flowing in the equine community
Leaving legacy through an estate gift to the AAEP Foundation is Dr. Kathleen Anderson's way of making sure the special relationship between horse and human lives on. Dr. Anderson of Elkton, Md., is a member of the AAEP's Foundation Advisory Committee, Racing Committee and a former member of the board of directors. She is also an On Call spokesperson during live racing events.
Horses have been an integral part of her life, from her childhood in a ranching community in western Canada; through travel and competition with event horses as a young adult; her current work with Thoroughbred racehorses; and mentoring her teenage daughter in her emerging equine aspirations.
"I have a strong desire to give back to the equine community to keep the 'circle of life' flowing forward — whatever funds or time I have donated have been returned to me in spades in opportunities and quality of life," said Dr. Anderson. "Supporting the work of the AAEP Foundation makes an incremental impact on the lives of all horses while still providing me with immediate gratification in the lives of the horses and people I see daily."
Through her involvement as a member of the AAEP Foundation Committee, Dr. Anderson has seen firsthand how the AAEP Foundation achieves its mission of helping horses.
" I have been impressed by the AAEP Foundation's process of assessment of funding requests and alignment with the mission of helping horses through the support of research, education, benevolence and the equine community," she explains. "The legal structure and actual operation under the umbrella of the AAEP allows all funds received to be channeled directly to the AAEP Foundation for use either in building the endowment or annual funding of approved requests — there is no bureaucratic takeout for operating expenses, which means to me that every dollar makes a difference!"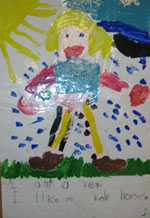 "I believe that estate planning should be congruent with a life well-lived. I have three communities in my life that I would like my estate to support in the future: my immediate family; the equine community that I have worked with and enjoyed my entire life; and the global community consisting of those less fortunate. Ever a practical person, I have simply purchased a life insurance policy to meet my desired goals for philanthropy — the AAEP Foundation is a named beneficiary for an amount that is equivalent to approximately 50 percent of that policy. In addition, I will continue to contribute to the AAEP Foundation through the AAEP Memorial Fund, the AAEP Foundation annual silent auction and AAEP equitarian programs to fulfill my mission of giving back to the horses that have given me so much."
"I have reached a point in my life when estate planning is prudent, and the AAEP is an integral part of my life. I do not want to miss an opportunity to complete the "circle of life" on my terms, thus, a little planning seemed appropriate to add value and integrity to both my life and my children's memory bank."
"This original artwork was created by my daughter Quinn at age of 4 and illustrates the influence horses have on our family life. With my donation to the Legacy Society, my children will be able to reflect back on these moments with pride knowing that we have in our small way supported the future."